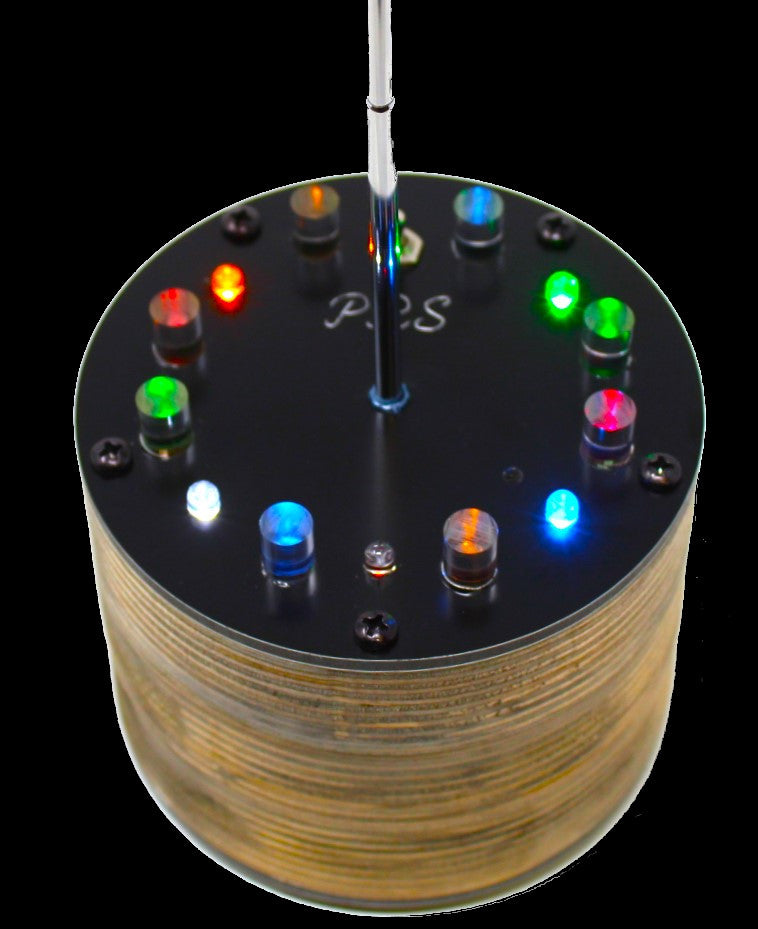 Para4ce Rem Static - The PRS
The PRS- Para4ce REM Static is the latest addition to the Para4ce Line. 
A REM Pod and a static detector in one sleek package
This past week the entire team at Ghost Hunters Equipment by GhoSt Augustine has been arguing over who gets to be next to use the latest addition to the Para4ce family- The Para4ce Rem Static (PRS). The PRS has a similar style as a REM Pod with similar capabilities- but with the added feature of a static electricity detector.  So far our guides have had fantastic luck with it at our haunted house. The spirits at the house of been curious about it, which suggests to us that it works as a trigger item as well. 
We like that the lights are direction based, This is direction based, meaning lights will light up in the direction the static is coming from. A total of thirteen lights circle the antenna, five of which are designed for the REM function, and the remaining eight for the static detector. Made of the same beautiful wood and other great quality materials as our Paranormal Music Boxes, the Paranormal Rem Static will be the star of your investigation.
Spirits have been known to create static electricity- but very few investigators search for this energy field in their investigations. The Para4ce Rem Static allows you to have two important pieces of equipment in one device, saving you room in your gear bag.
How Does it Work?
When the energy field around the antenna changes due to a presence, you will be alerted by an audio alert and through an array of five lights on top of the PRS. If any static is detected, the larger ring of eight lights will light up in the direction of the static. Make sure The Para4ce PRS is on a stable surface. Extend the antenna and flip the switch on top. To recalibrate, simply turn off and on again. 
Features:
Easy straightforward operation
Compact portable design- but must be stationary during operation
8 large LED lights indicates direction of Static energy 
5 small LED Lights indicates REM activity
Audio tones indicate REM activity
Power Source: Brand name alkaline 9V battery (not included)
Size of body in inches: 3" tall x 3.9" wide; Antenna up: 12.75" inch tall
Size of body in cm: 7.62 tall x 9.9  wide; Antenna up: 32.4 tall
Weight in oz: 12  
Weight in g:  340
Our investigators tested the PRS in our haunted house


We added the PRS to our Para4ce Investigation and asked what our investigators thought. Our investigators were very impressed- the Para4ce Rem Static picked up even small amounts of static electricity that would otherwise have gone unnoticed. Their investigations were enhanced and even more evidence was gathered. The Para4ce Rem Static allowed them to carry more gear, since the PRS is a two in one device. Our investigators found that the PRS picks up on more subtle static fields than even our NEM Master. 
"The static lights were going off. I enjoyed using this on my investigation and it's visually appealing."
Grab yours today while supplies last!