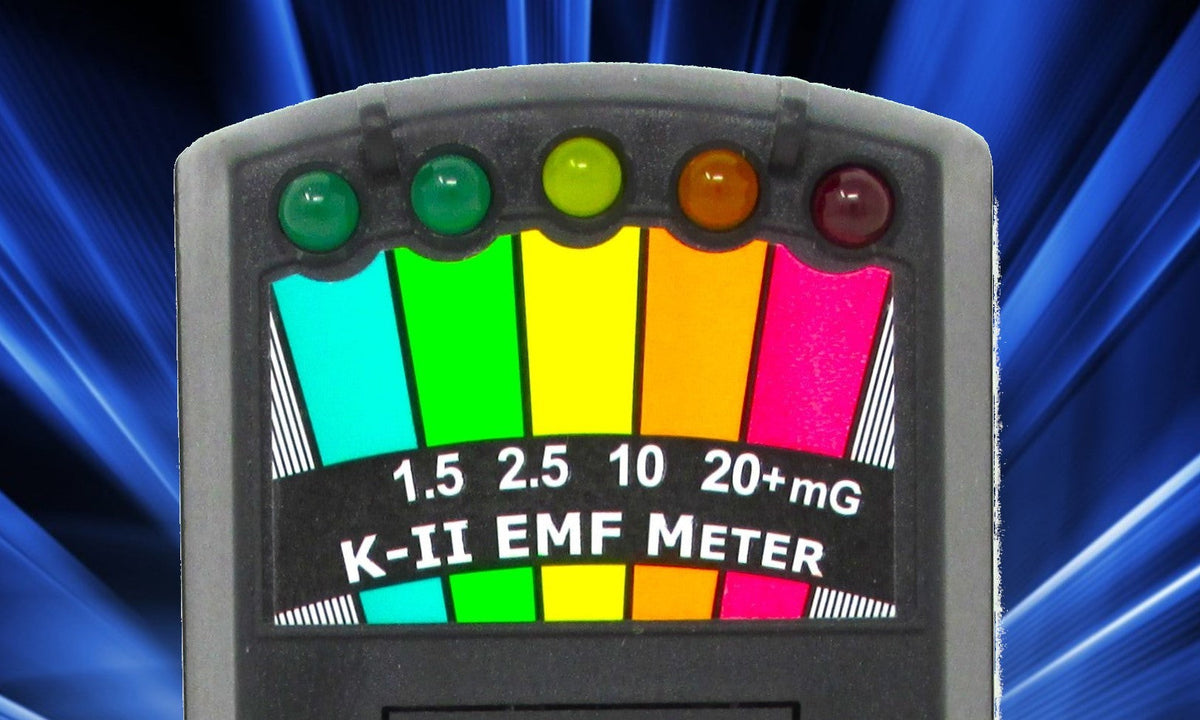 How the K2 Meter Became the Most Famous Instrument for Paranormal Research
Read on to learn how the k2 was born
Whether you are an experienced paranormal investigator or just beginning your journey, you've probably heard of the K2 meter (officially the brand is really K-II EMF Meter- but it's of course called the K2 in everyday talk). The K2 meter is among the most iconic pieces of ghost hunting equipment, and has been featured everywhere from TV shows, movies, and even video games. However, did you know that the beloved little meter was almost discontinued?

The K2 story begins in 2001 when Jonas Brihammar founded GhoSt Augustine as a store downtown America's oldest city, St. Augustine, FL, selling paranormal research equipment along with books and VHS videos etc on the subject. He sourced the K-II EMF Meter and became the exclusive reseller for Florida and several southern states.The meter was back then only produced for people to be aware of healthy distances to high EMF fields, since it is believed that long term exposure to higher levels could have negative health effects. The meter was at that time sold under the name Safe Range Meter. The sales were modest and under 100 units per year. They were sold for years in the store and to regional resellers and from 2004 also on eBay. Later that year some heavy news came across his desk in 2004- the company that manufactured the K2 decided to discontinue the meter since the market was not big enough to validate producing it.  

However, Jonas believed so much in the K2 for paranormal research, that in exchange for becoming the exclusive distributor of the K2 meter, he would take on the entire financial investment for its continuation.In return GhoSt Augustine would become the one and only authorized distributor of the product. It was a risky gamble, since at this point the sales were still under 200 units per year and now a commitment to a quantity of about 30 times of that level had to be made. GA's founder believed so much in the product for the paranormal. A completely new clientele for this item that had been previously produced only for personal health safety. He sensed that sales were growing and trusted it would just continue on that path. This proved to be correct. The big break came in 2007 when the K2 debuted on the SyFy  Channel show called The Ghost Hunters. During one astonishing episode about the Sharon Tate murders, the K2 meter was responding with intelligent EMF spikes to questions posed by Jason and Grant of TAPS. Since then the K2 started appearing on almost every Paranormal TV show and is still a regular feature. It has become the most popular and well known piece of equipment used in the field. It even shows up in cartoons and video games and to "do K2 work" has become a term often heard. Sadly since 10 years back there is a knock-off poor quality Chinese fake version made of the K2 that produces false readings and is overall awful and breaks apart. It is sold on amazon and ebay by unscrupulous sellers that trick unknowing people into buying what they think is a K2 Meter for $25-35 and it does not work right and will soon break apart. The real K2 Meter lasts a lifetime and works just as great as when it was first introduced to the paranormal by Jonas and his team back in the early days of the millennium. 

The counterfeit K2 meters are made overseas and sold on various on-line marketplaces including Amazon, eBay, and even in other ghost hunter stores online. These counterfeit meters are being marketed as the authentic K2 Made in USA. Complete fraud, ripping consumers off and breaking international trade laws.

These are poorly made counterfeits that are not reliable or sturdy like the genuine K2 Meter. You can tell an authentic meter from a fake one several different ways. The most obvious way is the label. The authentic K2 has a UV reactive label that looks like the label in our photo. The counterfeit K2 Meter has copied the old original K2's label that says K-II USA on the label.  We put a special round label on each K2 Meter that we sell to certify that it is a real authentic K-II Meter. When you shop with us GhostHuntersEquipment.com you are 100% sure to get an authentic K2!